Welcome
The key objectives of the SCRiPTS group, Sol-gel Centre for Research on Inorganic Powders and Thin films Synthesis, within the Department of Chemistry in the Faculty of Science of Ghent University can be described by 'controlled synthesis and surface chemistry of metal oxide nanoparticles and mesoporous materials' and 'chemical-solution-based coating development'. (Isabel.VanDriessche [at] UGent.be (Prof. I Van Driessche) - Klaartje.DeBuysser [at] UGent.be (Prof. K De Buysser)). 
Three research themes can be distinguished:
Controlled synthesis and characterization of metal oxide nanocrystals
Filling the gap between nanocrystals synthesis and their application by studying its surface chemistry
Chemical solution deposition of functional coatings via ink jet printing
With these research themes and equipment facilities, the SCRiPTS group has the intention to provide a broad view to students and researchers in the development of ceramic nanocrystals, mesoporous materials and coatings towards its application. Here, we envisage applications in superconductivity, batteries, catalysis, sensors, etc. with the cooperation of specific companies.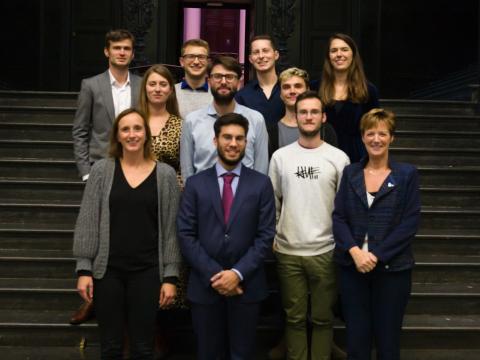 News
SCRiPTS team wishes Evert big congratulations with his PhD and good luck with your new challenge in University of Basel 

Our PhD student Loren has presentend his work entitled "Mapping out the aqueous surface chemistry of metal oxide nanocrystals; carboxylate, phosphonate and catecholate ligands" at the conference EMIN2022 and won the poster award. Congratulations Loren!

SCRiPTS group is reinforced with three new thesis students from Master Chemistry at Ghent University. Welcome Thomas, Pauline and Elke! Good luck with your research!

It is with great pleasure to invite you to public PhD defence of Evert Dhaene, entitled: Redesigning nanocrystal synthesis – Critically evaluating the use of solvents and ligands. The defence will take place on Friday 25th March at 15h00 in the Ghent City Hall (Botermarkt 1, 9000 Gent) followed by a small reception afterwards. Please confirm your attendance in advance by contact Evert.

Wishing you and your family a Merry X-Mas and a wonderful, inspiring but above all 'normal' and healthy 2022.